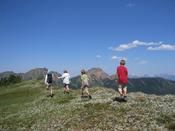 in the Slocan Valley
The Slocan Valley is truly one of nature's great playgrounds. The scenery is breathtaking and just outside the door is fantastic hiking, cycling, climbing, paddling, swimming, horseback riding, skiing, snowmobiling, motorcycling, bird watching, and strolling.
Nothing says SUMMER like floating or tubing down the Slocan River! While this can be one of the most memorable things of the summer, a little planning can make it a great memory rather than the other way around…
BE AWARE, this is a river with many hazards. There are rapids north of Lemon Creek. There are rapids south of Crescent Valley. There are smaller rapids south of Winlaw Bridge. There are log jams and structures in place for increasing fish habitat. The water moves quickly. Take a look at the Riverwatch signs posted at Winlaw and Passmore bridges, check out the map included here for a better look at the river and possible hazards.
Remember, while the weather can be beautiful, wind can be a factor, so always have a paddle to keep you going downstream and to avoid obstacles. The water is cold, so don't stay in for tooo long. And while the sun is hot, heat stroke can happen. Oh, and bug spray is a good idea too. Remember, if you do get into trouble, go to shore. The Rail Trail runs down the east side (left) of the Slocan River from Slocan to the bridge at Crescent Valley. Houses and roads can be found in all directions. But, there is no cell service.
The River is our pride and joy, please don't litter it or the shores! Prepare to pack out what you pack in.
Besides all that, it really is fun!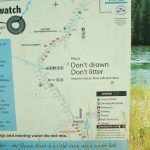 Enjoy our  Local campgrounds.
Add the eclectic nature of its people and some wonderful rural services, and you have a great place to play with likeminded people…or on your own if you prefer.
The Slocan Valley's four seasons offer spectacular year-round recreation opportunities. And depending upon the conditions and elevation, you may be able to experience them all in one day!
Local tour operators, guides, outfitters, camp grounds, clubs, recreations commissions etc. can help you enjoy the valley to its maximum potential.
Our Recreation Commissions offer residents and visitors wonderful day programs and events like: rock hound hikes, stargazing, bee-keeping, bear hikes, inner tubing down the river, seniors hikes, interpretive programs, movies under the stars, and much more.
The road between New Denver and Kaslo has been listed as one of the top motorcycling routes in British Columbia, and Highway 6 which runs the full length of the valley is breathtaking. There are lots of twists and turns to keep your ride interesting.
Our Valley Directory contains many hiking, cycling, and paddling opportunities and trails. Look for them under Outdoor Adventure. We are continually updating these entries with local conditions and adding more routes as people make them known to us. If you would like to contribute to the updating of these local routes (even if you just have an image you'd like us to show of a recent conquest), please email us at slocanvalleyedc@gmail.com
Hiking, cycling, paddling, swimming, horseback riding, and playing the snow is what we do best here. Pictures are worth a thousand words, and the images in this site are just a small sampling of the natural wonderland we live in.
Cautions and the Usual Disclaimers
Playing alone in nature's playground (aka The Slocan Valley) requires people to be responsible and to be able to care for themselves. Cell phones may not work here, there is little or no traffic on the backcountry routes, and the weather can change quickly.
If you are going into the backcountry have a good topographic map, be prepared, tell someone where you are going, and do not' rely solely on the information of this website to get you in and out safely.
This information is intended to get you interested, and show you some of the approximate locations and suggestions of what you can do.
Some places are more wild than others in the Slocan Valley, but suffice to say just about everywhere here qualifies as wilderness in someone's' books.
Wilderness hiking, camping, snow sporting and paddling is rewarding but has potential for danger that can be life threatening. Being experienced and well prepared can significantly reduce your risks – but not eliminate them.
Please be aware of your limitations and abilities in our mountains, waters and trails whether you are on foot, cycle, horse or vessel. Learn how to deal with wild animals and medical emergencies before you venture out into the backcountry – it could save your life. Check out the safety links on this site…they are a good place to start.
Consider contributing to the local economy and hire one of the fine local guides or outfitters to help you get into and out of the Slocan Valley wilderness safely.
Chances are, you'll have even more fun than doing it on your own. Consult our Valley Directory for guides and recreation resources.
SLOCANVALLEY.com and the authors disclaim liability for loss or injury incurred by anyone using information on this site.