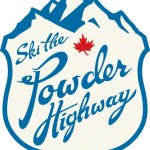 The Kootenays are known world-wide for deep powder snow …and the Slocan Valley is no exception. It's is a fun place to be in the winter. The Slocan Valley is on the Powder Highway, with many local options for backcountry skiing, catskiing, accommodations and all things skiing.
The Powder Highway website also contains snow reports travel information with current highway conditions.
For more on backcountry skiing visit Backcountry Skiing Canada.
Here, winter temperatures average out at a pleasant -5C to 5C (12F to 41F), but can range from +5C to -25C (41 to -13F).
The best months to catch big snow are December to February…averaging about 130cm or 51 inches per month in December and January.
November, February and early March average about half of that.
Most days from December through early March have a snow cover of 40cm ( about a foot and a half) or more – and that is at the lower levels.
If you prefer the skinny skis, and less speed, cross-country skiing is popular along our deactivated rail beds. Alternatively, you can break your own trail out the back door.
Please keep your dogs off cross country tracks – it's no fun breaking trail one day and coming back the next day with snowshoe and dog prints in your tracks.
Skiing is not the only thing that is popular here in the winter. The Slocan Valley is home to an internationally renowned ice and snow sculptors. And there is some fine snowmobiling in the area.
And like all good Canadian places near the water, there are polar bear swims or just plain fun and good winter fishing.
Throughout the lifetime of this website, we will be updating this webpage and be putting cross-country trails, favoured backcountry ski spots, snow festivals, snowmobile routes and the like in our Valley Directory under Outdoor Adventure.
Don't forget to try your skinnies on the Slocan Valley Rail Trail, our 50km groomed classic and skate ski trail, which doubles as a walking, biking and equestrian trail in the summer.
If you have a favourite snow story, route or image you want to share, or if you have an update on a trail condition, please contact us at info@slocanvalley.com
More Caveats & cautions, etc. etc.
Fun as the snow can be, it also brings some dangers with it. Avalanches are a real and formidable threat here. If you are going out in the backcountry in the winter, be informed, well equipped and know the current snow conditions.
The Canadian Avalanche Association's avalanche bulletin is your best resource for up to date conditions.
Many local outfitters offer backcountry winter awareness courses, and can outfit you for your time in the snow, and give you the skinny on where to go. If you don't know the area, and you're going into avalanche country (which is pretty much any country off the established roadways) consider employing a local professional who will make your trip more enjoyable.