Are you a manufacturer?
Do you have a product or service you would like to expand into markets outside of the Slocan Valley region?
this is a free service that will:
FOSTER INNOVATION AND ENHANCE COMPETITIVENESS
INCREASE PROFITABILITY
DIVERSIFY YOUR CUSTOMER BASE
Contact Michael Hoher of Community Futures today for more information:
michael@exportnavigator.ca
(250) 354-7857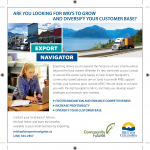 Sponsored by the Slocan Valley Economic Development Commission, in cooperation with the Slocan & District Chamber of Commerce.