Nikkei Internment Memorial Centre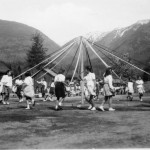 The Nikkei Internment Memorial Centre (NIMC) is a National Historic Site dedicated to telling the story of over 22,000 Japanese Canadians who were forcibly relocated during World War II. Located on the site of "The Orchard" internment camp, the NIMC contains original buildings, period artifacts and interpretive displays as well as the Heiwa Teien Peace Garden, designed by the renowned Japanese Canadian gardener, Tomomichi (Roy) Sumi.
The Centre is open 7 days a week from 10:00 am to 5:00 pm, May 1st to September 30th.
Please contact the Village of New Denver by email (office@newdenver.ca) or by phone (250-358-2316) for further questions or comments.